Saturday, September 22, 2007
How Much Does This Not Suck?
Way back in
April
I submitted the first 25 pages of my novel manuscript to Genesis, a first-25-pages-of-your-manuscript contest sponsored by the
Association of Christian Fiction Writers
.
Then in
May
I got word that I finaled in my category: Sci-Fi/Fantasy/Allegory.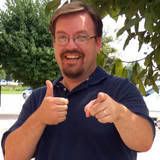 Tonight the winners were announced. I took Second Place. (Congrats to
Sally Apokedak
, the SF/F/A winner.) Two other members of my crit group,
Angie Poole
and
Jennifer Cary
, also placed Second in their categories. We got
certificates and got to walk across the stage, but we didn't have to make speeches. Second is the new First as far as we're concerned.
Congrats also to fellow Misfit (our crit group is The Misfits)
Mich Pendergrass
, who has been accepted to next Spring's
Pen to Press
retreat in New Orleans. And to
Heather Goodman
who took my author photo (above); it was the highlight of the awards banquet and got a "that's a great photo" comment from
Camy Tang
, who presented the Genesis Awards.

Mikesell
---
6 Snarky Remarks: